Lab Testing and Product Development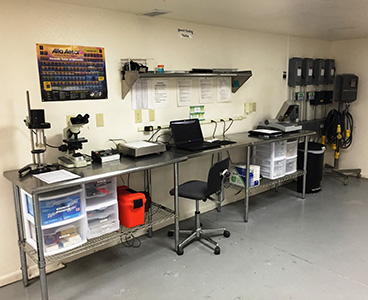 Our modern,  PCS Model P-0.1  pilot-scale dryer with accompanying lab is the key feature of our state-of-the-art demonstration facility in Payson, AZ where product development, bench testing, and pilot trials take place. On it we:
Demonstrate pulse-combustion spray drying on new products and optimize both powder quality and drying parameters
Optimize control set points for scale-up to  production spray drying  operations
Showcase the advantages of pulse drying over conventional spray drying, and sometimes, over freeze drying
Create pulse drying data for engineering a custom dryer for installation at your plant
Toll dry  short runs of high-value material
The first step in any analysis of how your product will dry in a PCS Pulse Dryer would be to send us a sample of your product. If your feed material has never been spray dried before, send us 100ml of the material, along with the Bench Test Request form, for a no-cost evaluation of the suitability of your material for pulse drying.  Generally, any product that can be successfully spray-dried can be pulse-dried, and with a better result.
If the Bench Test results are positive, or if you are already spray-drying your material, we will recommend a Pilot Trial.
In performing Pilot Trials, we normally use 15-20 gallons of your feed material, and we run 4-6 trials in the course of a day.  Our goal is to produce pulse-dried powder for your evaluation, and to optimize dryer throughput, yield, and efficiency, in addition to powder quality.  We encourage you to attend the trials so you can see our equipment in operation, and give us on-the-spot feedback about the powders.  Please contact us to get a custom quotation. Our fee is due at time of service. If you cannot attend the test, you can simply send us the feedstock, and we will run the trial, and return the powder and our report to you for analysis.
We have a complete set of mixing equipment for batch sizes from 3-50 gallons, along with a homogenizer.
Pulse Combustion Toll Drying Services
Pulse Combustion Systems™ offers a complete toll drying service for batch sizes as small as 10 gallons and as large as a 5,000-gallon tanker truck.  We do tolling in both our Pilot Dryer, with an evaporative capacity of 50 pounds of water per hour, and in our P-1 Production Dryer, with an evaporative capacity of 500 pounds of water per hour.  Our tolling services allow our customers to go into commercial production without the expense and logistics of constructing their own plant.
Visit our  Toll Drying  page for more information.
Contact us  to schedule a test, or visit our Dryer Technologies  pages to learn more about the science and benefits of pulse combustion spray drying.
Testimonials