Basic Principles of Pulse Spray Drying Operation
A convenient way to understand pulse combustion spray drying is to contrast it with conventional pressure-nozzle spray driers. In a nozzle-type spray dryer, the liquid is atomized by accelerating it through a tiny orifice at high pressure. The atomized droplets then decelerate through warm, low-velocity gases, giving up moisture over a time period of 15-30 seconds. In pulse combustion spray driers, however, the gas and liquid environments are reversed: the very hot drying gases are accelerated to about 300 mph in a resonating pulse combustion engine, while the liquid is pumped into this gas stream at low pressure (about 1 psi) and very low velocity. The high-velocity pulse wave fronts instantly atomize the liquid and drying is completed in less than a second. The rapid drying is caused by extreme temperature differentials and intense mixing in the highly turbulent environment downstream of the combustor tailpipe.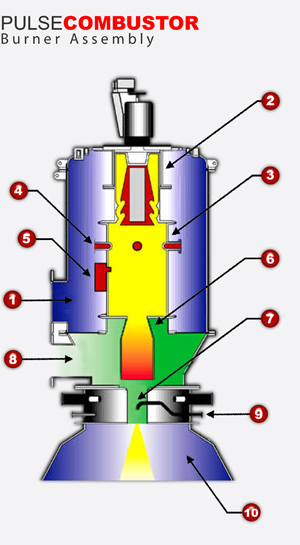 Here's How Pulse Combustion Spray Driers Work:
Air
is pumped into the spray drying unit's outer shell at low pressure, where it flows through the patented unidirectional air valve
.
The air enters a tuned combustion chamber (a "Helmholtz Resonator") where
fuel
is added to the spray dryer. The air valve closes.
The fuel-air mixture is ignited by a pilot

and explodes, creating hot air pressurized to about 3 psi above combustion fan pressure.
The hot gases rush down the spray dryer's tailpipe
toward the atomizer
. The air valve
reopens and allows the next air charge to enter. The fuel valve admits fuel, and the mixture explodes in the hot chamber. This spray drying cycle is controllable from about 80 to 110 Hz.
Just above the spray dryer's atomizer, quench air  is blended in to achieve desired product contact temperature.
The exclusive PCS atomizer releases the liquid

into a carefully balanced gas flow, which dynamically controls atomization, drying and particle trajectory.
The atomized liquid enters a conventional tall-form drying chamber

. Downstream of the spray drying process, the suspended powder is retrieved using standard collection equipment, such as cyclones and baghouses.
The main differences between pulse and conventional spray dryer units are in atomization and heat transfer; the differences are dramatic. We explain below what these differences are between the two types of spray driers:
Dryer Characteristics
PCS Pulse Dryer
Typical Nozzle-Type Spray Dryer
Typical Rotary-Disk Spray Dryer
*Cost varies with product
**Usually require spare pumps or spare atomizer assembly
Atomization
Gas Dynamic - No shear
High Pressure Orifice - High shear
Moderate shear
Feed Pump
Low Pressure (1 psi)
High Pressure
Low Pressure
Feed Delivery to Dryer
Open Pipe
Precision Orifice
Various Wheel Types
Evaporative Heat
At point of atomization
Remote, ducted to drying chamber
Remote, ducted to drying chamber
Mixing of heat & droplets
Rapid and Complete
Slow
Slow
Heat transfer rate
High
Relatively Low
Relatively Low
Wear parts in Dryer
Feed Pump, Air Valve Motor
Feed pump, nozzles
Feed Pump, Rotary Drive Unit
Parts that may Corrode
Feed pipe
Pump, feed line, nozzles
Pump, feed line, wheel
Cost to Replace Worn Parts
Very Low
High*
High*
Time to Replace Worn Parts
Hours
Days**
Days**