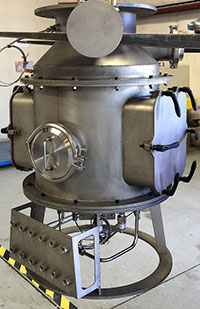 Payson, Arizona – Pulse Combustion Systems (PCS) shipped a custom-designed pulse combustor to a new customer today.
Instead of using it for spray drying, the customer is going to use it as a novel heat source in a gasification project.
"We were very pleased to receive this order, because the requirement for high temperatures, high velocities, and high heat release perfectly fits the capabilities of our advanced-technology pulse combustor," said James Rehkopf, President of Pulse Combustion Systems. "We enjoy working with high-tech, innovative customers, and we look forward to the results from this new application of our technology."
The customer plans to start up the gasifier in the next few months, and should be reporting results shortly thereafter.
For more information, contact James Rehkopf at 415 726 3536 or jrehkopf@pulsedry.com.